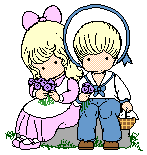 Easter Books
Adams, Adrienne. The Easter Egg Artists. NY: Charles Scribner's Sons, 1976.
Balian, Lorna. Humbug Rabbit. Nashville: Abingdon Press, 1974.
Barth, Edna. Lilies, Rabbits, and Painted Eggs: The Story of the Easter Symbols. NY: Deabury Press, 1970.
Berger, Gilda. Easter and Other Spring Holidays. NY: Franklin Watts, 1983.
Bridgewater, Alan. Holiday Crafts: More Year-Round Crafts Kids Can Make. Blue Ridge Summit, PA: TAB Books, 1990.
Burnett, Bernice. The First Book of Holidays. NY: Franklin Watts, 1974.
The Easter Book. NY: Grosset & Dunlap, 1980.
Duvoisin, Roger. Easter Treat.
Friedrich, Priscilla. The Easter Bunny that Overslept. NY: Lothrop, Lee, & Shepard, 1983.
Gibbons, Gail. Easter. NY: Holiday House, 1989.
Hillert, Margaret. It's Easter, Dear Dragon. Cleveland: Modern Curriculum Press, 1981.
Hoban, Lillian. The Sugar Spring Snow. NY: Harper & Row, 1973.
Hopkins, Lee B. Easter Buds are Springing: Poems for Easter. NY: Harcourt Brace Jovanovich, 1979.
McClenathan, Louise. The Easter Pig. NY: Morrow, 1982.
Milhous, Katherine. The Egg Tree. NY: Scribner's 1950.
Olcott, Frances J. Good Stories for Great Holidays. Boston: Houghton Mifflin, 1942.
Patterson, Lillie. Easter. Champaign, IL: Gerrard Pub. Co., 1966.
Poems for Seasons and Celebrations. Edited by William Cole. Cleveland: World Pub. Co., 1961.
Sandak, Cass R. Easter. NY: Franklin Watts, 1980.
Schulz, Charles. It's the Easter Beagle, Charlie Brown. NY: Random House, 1976.
Sechrist, Elizabeth H. Red Letter Days: A Book of Holiday Customs. Philadelphia: Macrae Smith, Co., 1965.
Stevenson, James. The Great Big Especially Beautiful Easter Egg. NY: Greenwillow Books, 1983.
Tudor, Tasha. A Tale for Easter. NY: H.Z. Walck, 1941.
Please send comments and questions to: bgilley@cris.com

Copyright © 1997 Barbara A. Gilley.